After World War 2 The Armies of Iraq(under Saddam Hussein) United States(In Fallijah) and Israel(Gaza) has been known to use white phosphorus bombs against human targets in Iraq-Iran war, Fallujah(Iraq freedom fighters) and civilians in Israeli Occupied Territory of Gaza respectively. Read here and here.
While Saddam Hussein has been hung for crimes against humanity and the US seems to have stopped at Iraq apparently the Israeli Army continues using the phosphorus bomb to devastating effect on the stricken innocent civilians of Gaza. The latest story:
Israel army use white phosphorous in latest attack on Gaza
Medical examinations point to the continued use of prohibited weapons by Israel in Gaza
Saleh Naami , Monday 18 Apr 2011
Ihab Keheal, head of the justice department's medical examiner's office in the Gaza Strip, has stated that examinations conducted by his office have unveiled evidence indicating that the Israeli army used white phosphorous and other internationally prohibited weapons in its latest operation in Gaza.
Making his comments in a press statement released Monday, Keheal said that the bodies of Palestinians killed in the latest escalations were torn apart and charred to the extent that they were barely recognizable.
Keheal added that his office was conducting delicate tests to discover the instruments used by the occupation army in its operations on civilians, including weapons and chemical munitions forbidden under international law.
The Palestinian Ministry of Justice, according to Keheal, is in contact with committees responsible for documenting war crimes as well as Palestinian and international rights organizations.
He hopes the reports issued by his office could be used to try the Israeli occupation for its crimes in an international court of justice.
In this way, expalined Keheal, it is of the utmost importance that the world is aware that the occupation forces persist in using internationally forbidden weaponry against Palestinian civilians. He called on the world to take responsibility and protect civilians especially in light of Israel's renewed threats of launching military operations on the Gaza Strip.
In the aftermath of Operation Cast Lead, which claimed the lives of 1,400 Palestinians, most of which were civilians, Israel admitted using white phosphorous against civilian targets in the strip.Source here.
White phosphorus bombs are classified as prohibited chemical weapons even by the United States (Read here) its use against civillians or areas where there will be civillians present should be globally banned. If it does not kill the victim, It causes horrible wounds to the human body, the use of white phosphorus bombs should be banned and the head of states of any country which authorised the use of the deadly bomb against civillians should be charged for crimes against humanity and sentenced to life imprisonment. If Israel is guilty of using the weapon then its Prime Minister and his Defence Minister should be charged by in the International Court of Justice.
IDF dropping White phosphorus bomblets over Gaza
Artillery Shell armed with white phosphorus ordnance exploding over Gaza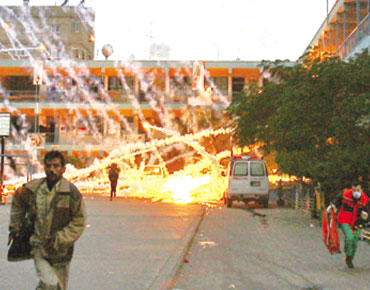 Civilians running for cover
The Unlucky Gazan Civilians
The ones lucky to be alive
THE WORLD MUST REALISE THAT NOT ONLY A PEOPLE IS BEING SYSTEMICALLY HARMED BY THE ISRAEL GOVERNMENT BUT OUR HUMANITY IS BEING DESTROYED BY OUR FAILURE TO STOP THE CONTINUING ATROCITY AND THE USE OF DISPROPORTIONATE FORCE ON GAZAN BY THE ISRAELI DEFENCE FORCE