After Lim Kit Siang realised that getting 90% support from Cina minorities in PRU12 and PRU13 can't get DAP any closer to Putrajaya and there has to be a radical thinking in the way that DAP do its business, they have to find gullible and naive young Malays who would do the talking while they do the thinking. So out come Dyana Sofya now New DAP hope to rake in the Malay votes for the DAP in PRU14.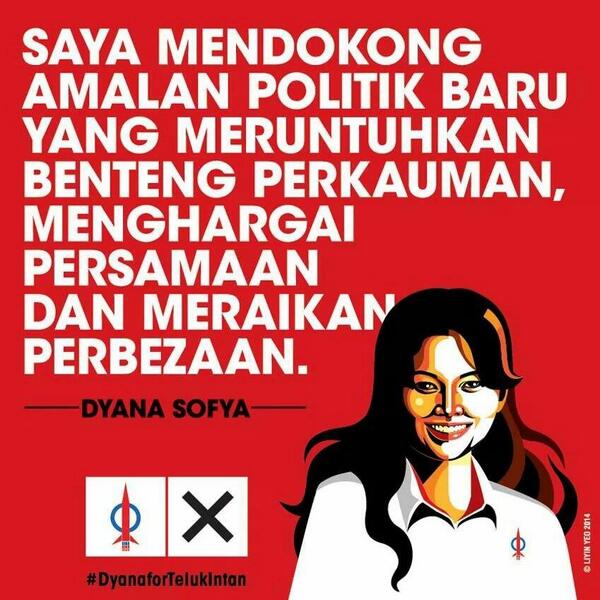 IF DAP WANTS TO BREAKDOWN RACIAL BARRIERS, START SMALL, START WITH THE CEC MEMBERS COMPOSITION LAH, WINDOW DRESSING AT PRK's ARE RATHER INSULTING TO MALAY INTELLIGENCE
I don't think putting up a young Malay to be candidate will win the Malay votes for DAP will be successful, for one thing it is insulting not to mention shallow to put up a young Malay who has not gone through the political process to become an MP, you DAP guys think Malays are that stupid and gullible ka? We may be a tolerant people, but do not confuse tolerance with ignorance Ok. This video so perfectly illustrate Sofya's naivety and Lim Kit Siang dominance over what she say or do:
Talking about Tunku Aziz who left the DAP in a huff after he found out who these these people really are, see what he pesan to Sofya:
Tunku Aziz pesan Dyana buka mata dan fikir apa DAP buat
Oleh QURNISHA HAMKA
21 MEI: Calon DAP, Dyana Sofya Mohd Daud harus membuka mata dan belajar untuk berfikir secara kritis dan melihat dengan lebih luas bagi memastikan beliau tidak terus hanyut dengan corak permainan politik parti itu.
Malah. Dyana perlu meneliti sebab atau punca mengapa bekas pemimpin DAP mengambil keputusan untuk meninggalkan parti cauvinis itu sebelum ini
Itu antara ingatan dan nasihat bekas Timbalan Presiden DAP, Tunku Abdul Aziz Tunku Ibrahim ketika diajukan berkenaan calon DAP bagi PRK Teluk Intan, Dyana Sofya yang mula mencuri tumpuan banyak pihak.
"Nasihat saya kepadanya, sentiasa buka mata dan sentiasa mendengar. Juga lihat kepada setiap langkah dan keputusan yang diambil DAP, dan lihat juga langkah kamu (Dyana) sendiri adakah kamu mempertahankan keistimewaan Melayu itu sendiri.
"Kenapa saya cakap begini, ini kerana DAP sudah lama mengatakan bahawa mereka tidak menentang Melayu, dan mereka adalah parti berbilang kaum, tapi saya rasa semua tahu bahawa DAP bukan satu parti yang demokratik," katanya kepada bnbbc.my.
Menurut Tunku Abdul Aziz, Dyana perlu belajar untuk melihat dengan 'critical eye', dia juga perlu belajar melihat kepada larger interest of the Malays.
"Dia juga seorang Melayu dan dia juga cakap bahawa dia tidak mahu kepada perbezaan kaum dalam politik.
"Sebenarnya pada saya, apa yang dia cakap itu hanyalah suara yang selama ini Lim Kit Siang cakap, Lim Guan Eng cakap dan juga apa juga mendiang Karpal Singh selalu cakap, tetapi hakikatnya parti untuk kaum Cina,"
jelasnya.
Menjawab soalan katanya, Dyana sudah mengkhianati orang Melayu apabila sudah meningkari janjinya untuk tidak mengkhianati Malaysia dengan kenyataan supaya membuka kemasukkan pelajar di Universiti Teknologi Mara (UiTM) tidak hanya untuk orang Melayu.
Beliau juga menyifatkan, nasihat yang dikeluarkan Ketua Wanita UMNO, Datuk Seri Shahrizat Abdul Jalil semalam selepas selesai proses penamaan calon di Teluk Intan tidak diserap baik oleh anak muda itu.
"Dia sudah menjadi pengkhianat pun pada hakikatnya dengan kenyataan untuk membuka UiTM kepada semua kaum, sebab kerajaan selama ini mengusahakan untuk menyediakan pendidikan kelas pertama kepada kaum Melayu.
"Paling tidak sepatutnya dia fikir berkenaan orang Melayu yang lain, jangan sebab dia sudah ada ijazah dan sudah tidak belajar di situ lagi maka saya tidak perlu fikir lagi berkenaan orang lain," katanya.-bnbbc.my
Actually Dyana and the other young Malays who is inspired to join the DAP should really find out what the DAP is really all about. Find out why until now they have majority members in the CEC who are Chinese and find out why some of them like Lee Lam Thye and Wee Choo Keong left the party.
If you don't like how UMNO or BN run the country why not group a third force of like minded young people and form a political party and speak your mind, no need to join the DAP and be used as a novelty to regurgitate what Kit Siang says.