To those smart alecs who keep on saying that the Agung's word are advisory just because you don't agree with his speeches think again:
Malaysian Passport Cover page (front)
If you don't agree, jangan mulut macam longkang telling all and sundry that The Agung's words are advisory that applies to the learned lawyers too! Don't agree, show that you really mean it by returning the Passport to the Malaysian Government! Go to another country like a pendatang haram and see how the US, Australian or European treat you.
If we Malaysians be it Malays, Bumiputras, Chinese, Indians and others want to live in peace and harmony lets adhere to the Rukun Negara:
DO NOT LISTEN TO THE DICK HEADS POLITICIANS WHO SAY YOU ARE BEING PERSECUTED LAH, YOU ARE SECOND CLASS CITIZENS LAH AND ALL SORTS OF NEGATIVE STATEMENT INTENDED TO CAUSE DISHARMONY AMONG US, THE TRUTH IS WE ARE IN IT FOR THE LONG HAUL, OUR BLESSED COUNTRY MALAYSIA IS A COUNTRY FOR US AND OUR CHILDREN AND THEIR CHILDREN
Please don't be like this silly woman, finding ghost where there aren't any! Malaysia is a sovereign Country, to say that only the Chinese or Indians make it a success is terribly untrue and smack of supremacist and racists thinking. Please think about the Malay Civil Servants which had administered this country since Meredeka creating conducive and peaceful place for Commerce and economic activities, what about the Malay Soldiers the Policeman who died keeping our Malaysia safe? Silly woman indeed, racists supremacist bitch some more!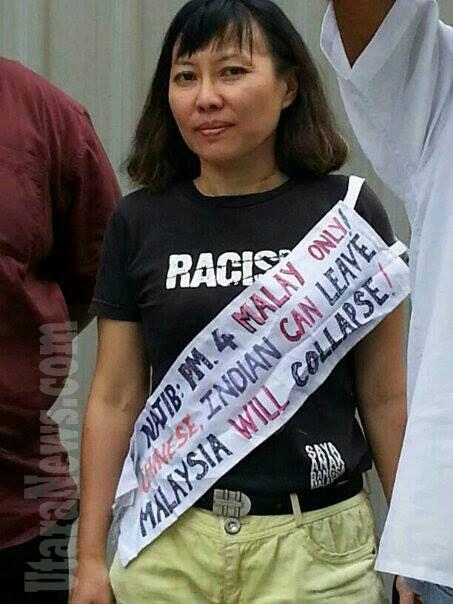 Malaysia will not collapse if its ungrateful citizens leave, in fact it will prosper as there are less rich whiners going round spreading negative energy around this blessed country!